Ophiuchus : Algíz Viking Symbol
What is it?
The Vikings in their great magical knowledge gave the Celts the invisible amulet or Algíz. Both witches and wizards originally began to use it behind everything where it was hidden, hence its name, invisible amulet.
The warriors carried it inside the shields, in the houses it is engraved in the bricks that form them, it is found in stones, trees, tiles, always in places where it cannot be seen. The witches increased their power with the oil of the sacred stones, which is obtained by macerating certain plants on an enchanted stone at midnight of the new moon, when the elementals rest.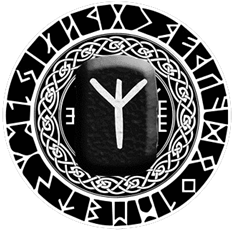 This symbol that you possess must be placed "Behind the mirror" so that it remains invisible, but in the world of mirrors where your other "I" remains, it will be irradiated with power.